PERMANENT MAKEUP.
ALWAYS A GOOD-LOOKING APPEARANCE.
Permanent makeup is for anyone who wants to look well cared for at all times of the day (and night), has little time or effort to get dressed. If you are allergic to ordinary make-up, permanent makeup is the solution. Perfect under all circumstances, also with sports or in the sauna and with swimming, your permanent make-up always stays in place and doesn't smudge anymore. Permanent makeup can be applied to accentuate and/or correct eyebrows, lips or eyelids, which remain in place for several years. It's a comfort that once you have it, you can't miss it.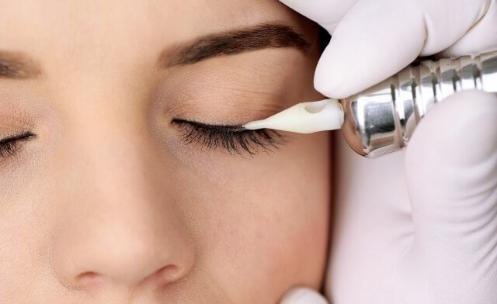 EYEBROWS | 60 MIN | €450

EYEBROW MICROBLADING | 60 MIN | €450

EYELINER UNDER | 45 MIN | €225

EYELINER ABOVE | 45 MIN | €275

EYELINER COMPLETE | 60 MIN | €450

LIPS | 60 MIN | €450
Frequently asked questions about Permanent Makeup:
What should you pay attention to before the treatment? Eat well in advance! Do not take alcohol or blood thinning medication at least 24 hours in advance. Alcohol and/or blood thinners make the blood thinner, so the pigment will not adhere as well.
How long does permanent makeup last? Your permanent make-up will fade over time. This is due to the natural cell renewal, the immune system and influence of UV light. In general, permanent makeup will remain in place for 1 to 5 years.
How long does the treatment take? At the first placement, the treatment takes between 1.5 and 2 hours (including discussion, drawing and pigmentation). A post-treatment takes about 30-45 minutes.
Can I wear contact lenses after treatment? If you are wearing contact lenses, bring your glasses with you on the day of treatment. You can wear contact lenses again once there are no scabs left.
Do you have a choir paw? If an outbreak occurs regularly, it is not recommended to have a lip pigmentation. There is already scar tissue around the lips as a result of previous wounds. In these places it will be more difficult for the pigment to grasp, resulting in a frayed lipliner. If the cold sores occur occasionally (once or twice a year), a lipline is no problem. However, you must take the necessary measures (take Zovirax tablets 1 week before the treatment).
How is permanent makeup applied? With permanent makeup, a special skin-friendly pigmentation fluid is introduced into the skin by means of a sterile, ultra-thin needle that goes up and down at lightning speed. You can have permanent makeup applied for:
Eyebrows: (shadow or Microblading/3D hairs): Thin and/or irregular hair growth of the eyebrows is completely corrected with permanent make up so that an even eyebrow line is created as only make-up artists can create. Any scars in the eyebrow can also be camouflaged with permanent makeup. If you used to epilate too much and now hardly any eyebrows left, with permanent make-up your face will be complete again.
Eyeliner: Eyelids and eyelashes make the eyes speak. With permanent make-up, the appearance of the eyes can be changed and of course be embellished. The eyeliner is pigmented between the eyelashes. It gives a natural and full glance. In this way, eyes that are too large or too small can be brought into the right proportion to the total face optically. Always beautiful eyes, without having to worry about running eye make-up. It is also possible to place permanent make-up on the inside (waterline) of the lower eyelid. There is NO risk whatsoever during the treatment! Because of her extensive knowledge and years of experience, your specialist has developed a unique method, in which the treatment runs very smoothly and above all very safely.
Lipliner: For the lip contours, permanent make-up can be used to achieve a natural addition or extra definition. Correcting lips to give them a symmetrical appearance is an important application of permanent makeup.
How does a permanent makeup treatment work? Good contact with the client is at the basis of the treatment and therefore we start with an intake interview. During this interview it will also be clear what your wishes are with regard to the shape, colour and style.
Together with you we will go through a medical questionnaire. In some cases we have to be extra careful and this will be discussed with you.
A good professional advice is necessary. A lot of attention is paid to the drawing with kayak pencil, in order to give you a good idea of the end result.
A gentle anaesthetic cream is then applied to the skin.
It goes without saying that new sterile needles and needle caps will be used for each treatment. Hygiene and sterility are priorities for our treatments.
The pigment is then gently inserted into the skin.
During the treatment you will be guided and reassured by our experienced specialist, making the treatment safer, virtually painless, more tolerable and completely risk-free.
During the treatment there will be regular consultation and monitoring in order to obtain an optimal result.
As a finishing touch, an aftercare cream is applied to the skin. You can buy this cream from your pharmacist to be able to continue caring for it at home.
We will explain to you in more detail how you can continue the aftercare at home, and the instructions will also be given to you in writing.
After 3 to 10 days it looks cured, but the skin cells still need to recover inside and the colour may change during the next 3 weeks, so you will only then see the final result of your treatment.
After +/- 4 weeks follows a post-treatment. During this treatment, shape and color are touched up and accents are made in terms of intensity. For most treatments, one after-treatment is sufficient. Much depends on your skin type, but often also on how you take care of it at home. So carefully follow the instructions regarding your home care. You can then count on optimal results.