MESOESETIC BODY EXPERIENCE
BodyShock as the ultimate treatment to reshape the silhouette.
Scientific innovation for reshaping the figure thanks to the ultra-concentrated active ingredients used to design the bodyshock body line, which addresses the most characteristic beauty concerns of the figure. Treatment possible of six specific zones:
Double chin: Shows signs of sagging due to excess fat tissue. This may be hereditary or caused by premature aging due to sun exposure.
Arms: Loss of firmness is especially visible in the area of the triceps. The tissue begins to sag, which is clearly visible.
Breasts: They lose tone and elasticity due to hormonal changes, breastfeeding and the passing of time. This results in a loss of firmness.
Belly and flanks: The tissue loses firmness and fat accumulates locally on the front and sides.
Buttocks: They lose firmness and signs of flaccidity appear.
Legs: These tend to retain moisture and form fat lumps, causing orange peel skin.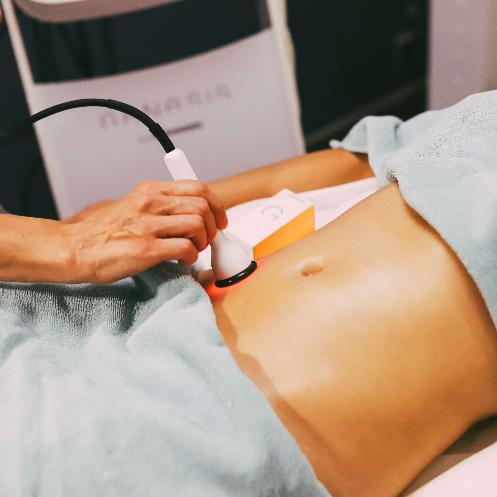 BODYSHOCK | 55 MIN | €95
(MORE RESULT WITH CURE X10 | €950 | €190 DISCOUNT ON MESOESTETIC PRODUCTS)
Result guaranteed thanks to highly active ingredients | Reduces fat and cellulite | Prevents water retention and improves microcirculation | Combine with products at home for optimal results.
GENESIS BODY | 70 MIN
(MORE RESULT WITH CURE X10 | €1300 | €260 DISCOUNT ON MESOESTETIC PRODUCTS)
This treatment is specific for body and double chin. Improves collagen and elastin synthesis, stimulates lipolysis and drainage to reduce contour and volume and improve skin texture resulting in a 60% improvement on fat cells. Ideal for cellulite, for firming, push-up, draining and treating a double chin.
Body Shock Gamma that allows to enhance and improve the results of professional treatments in the cabin.