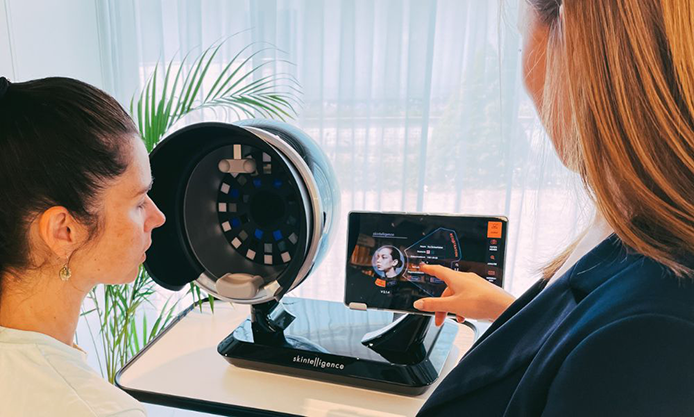 SKIN ANALYSIS
GET INSIGHTS ABOUT YOUR SKIN CONDITION.
Using photos (in white light, polarized and UV) we map the condition of your skin. You get a clear overview of your skin problems such as (un)evenness of the skin, spots, sensitivity, moisture content, acne, UV spots, wrinkles, size of the pores.
CURIOUS ABOUT THE WELL-BEING OF YOUR SKIN?
Do a complete skin analysis of your skin, thanks to the skintelligence.
Analysis supported with detailed photos of the entire face.
We visually map all skin problems with graphics.
Get a comparison after a few weeks to see the progress of a recommended cure or routine.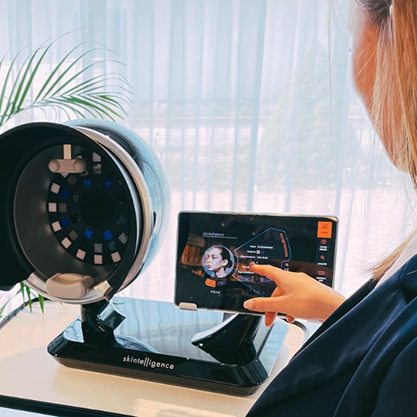 When getting your first treatment at SKIN EXPERTISE PARFUMA, we always recommend a skin analysis:
INTRODUCTION: Skin Analysis + Cleansing Treatment + Skincare Plan | 70 MIN | €100
On your first facial treatment, understanding the needs of your skin is the first step to a beautiful skin. During this facial treatment, after a detailed skin analysis with the skintelligence, the skin condition is precisely defined. Furthermore, you get a tailored treatment by a proper cleansing, eyebrow epilation and mask. While the mask is on, you can enjoy a hand or foot massage. After the treatment you will receive personal advice and a skincare plan.
INTRODUCTION DELUXE: Skin Analysis + Facial Treatment with Massage + Skincare Plan | 85 MIN | €120
The same 'Introduction' treatment with an additional relaxing facial massage with a customised concentrate and an intensive hydrating mask.