ENVIRON
A BEAUTIFUL SKIN, FOR A LIFETIME.
Everyone deserves a healthy skin regardless your skin type. Environ focuses, with advanced formulas, on the healing effects of vitamins. So we fill in shortcomings and we help the skin fight against the stress of everyday life. No matter how demanding your schedule is, we revitalize your skin to get that healtly glow. Environ's products and treatments, developed on the base of experience and science, provide a beautiful and healthy skin... for a lifetime.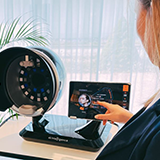 NEW CUSTOMERS
At the first consultation.
INTRODUCTION: Skin Analysis + Cleansing Treatment + Skincare Plan | 70 MIN | €100
On your first facial treatment, understanding the needs of your skin is the first step to a beautiful skin. During this facial treatment, after a detailed skin analysis with the skintelligence, the skin condition is precisely defined. Furthermore, you get a tailored treatment by a proper cleansing, eyebrow epilation and mask. While the mask is on, you can enjoy a hand or foot massage. After the treatment you will receive personal advice and a skincare plan.
INTRODUCTION DELUXE: Skin Analysis + Facial Treatment with Massage + Skincare Plan | 85 MIN | €120
The same 'Introduction' treatment with an additional relaxing facial massage with a customised concentrate and an intensive hydrating mask.
MANUEL TREATMENTS
Well Hydrated Skin is Beautifully Luminous.
A luxurious, relaxing treatment with essential vitamins that make the skin healthy, radiant and resilient again. The magic of this treatment lies in the combination of specially selected powerful formulas and the therapeutic hands of the skin care professional. Recommended for anyone with electro-sonic current contraindication.
VITAMIN TOUCH | 55 MIN | €80
INTENSIVE VITAMIN TOUCH | 70 MIN | €100
EXTRA
Extra result with
MICRONEEDLING ROLL-CIT NEEDLING | €25

(SUPPLEMENT)
Environ Cosmetic Roll-CIT® accelerates more the absorption of the ingredients of your products (10 000% better!).
Extra relaxation with
FACE MASSAGE | €25

(SUPPLEMENT)
Combination of different massage techniques | Relaxing for the mind and stimulating all skin functions | Attention to neck, shoulders, cleavage and scalp.
ENVIRON
'"Bestsellers for a healthy skin."